The Checkdown Madden 20 Tournament Betting Odds
[ad_1]
It seems all the news in the world these days are doom and gloom with the COVID-19 pandemic spreading and infecting many people every day. But a handful of NFL players in collaboration with The Checkdown have decided to come together for a Madden 20 tournament with the proceeds going to COVID-19 relief efforts. The NFL Foundation and EA will be donating 5-thousand dollars for each player and 20-thousand for the winner.
The tournament will have teammates playing against each other as well as potential divisional rivals going head-to-head to crown the best Madden 20 player in the league. Online sportsbook Bodog has listed Los Angeles Chargers safety Derwin James as the favorite at +115, while his teammate wide receiver Keenan Allen brings up the rear on the oddsboard at +2200.
The eight players competing in this tournament are: Los Angeles Chargers' safety Derwin James (+115), Kansas City Chiefs wide receiver Tyreek Hill (+160), Kansas City safety Tyrann Mathieu (+800), San Francisco 49ers wide receiver Deebo Samuel (+800), Cleveland Browns cornerback Denzel Ward (+900), Cleveland Browns wide receiver Jarvis Landry (+950), Philadelphia Eagles wide receiver DeSean Jackson (+950) and Los Angeles Chargers wide receiver Keenan Allen (+2200).
When the odds were released, the Honey Badger, Mathieu, had the same line as Keenan Allen (+2200) and he thought the books made a mistake.
+2200 lol @cheetah they must not know how good I'm is huh lol https://t.co/M4WKNyOSGQ

— Tyrann Mathieu (@Mathieu_Era) March 30, 2020
Perhaps the sportsbooks were wrong as his odds have shifted up to +800.
How Will This Tournament Play Out?
The opening round of the tournament starts April 1 at 6:00 p.m. ET with each of the four games starting on the hour from 6-9:00 p.m. ET and will streamed online at Twitch. The semifinals and championship game will take place on Thursday, April 2. This flows nicely into the NBA2K Players-Only tournament set to begin on Friday.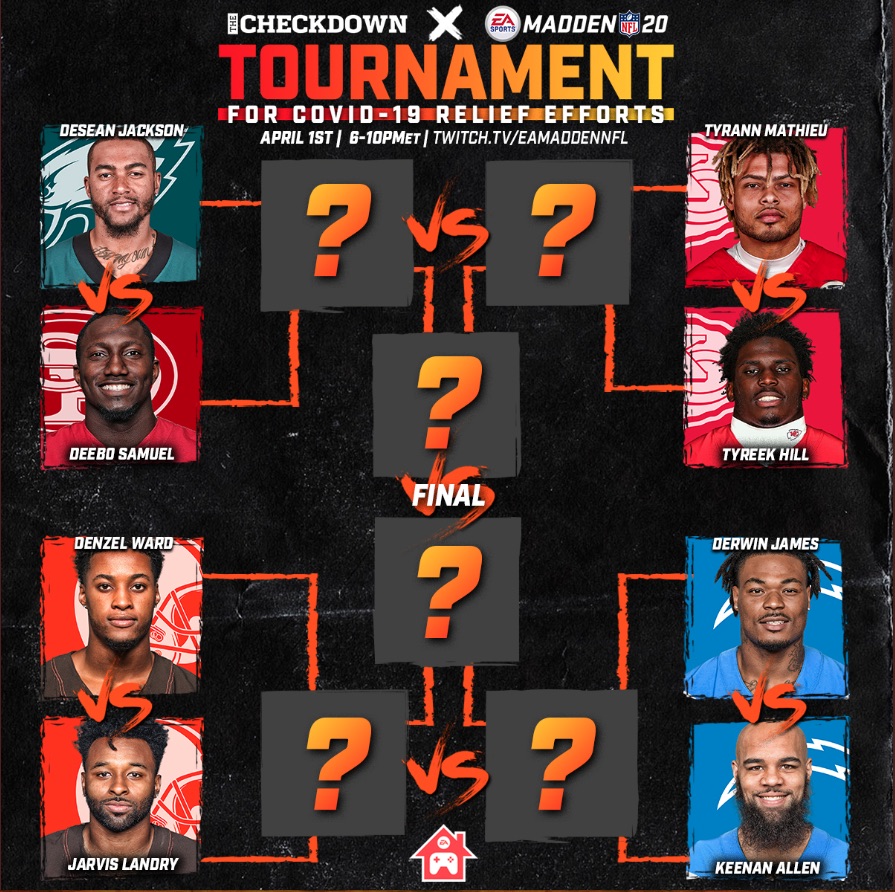 The opening round matchups are DeSean Jackson vs Deebo Samuel, Tyrann Mathieu vs Tyreek Hill, Denzel Ward vs Jarvis Landry and Derwin James vs Keenan Allen.
The winner of Jackson/Samuel will take on the winner of TyFreak/Honey Badger while the winner of Ward/Landry will collide with James/Allen.
This tournament is coming on the heels of the Madden 20 Invitational earlier this week when Derwin James walked away with the victory earning a decisive 80-16 victory over Michael Vick in the championship game — James can ball.
The Chargers safety gets to open this tournament against his teammate Keenan Allen who showed off his gaming skills two weeks ago when he led the LA Clippers to victory over former Arizona Cardinals safety Tony Jefferson's Phoenix Suns in an NBA 2K game – can his skills translate?
Where Is the Betting Value For The Checkdown x Madden 20?
Obviously, Derwin James putting on a clinic in the tournament earlier this week rightfully makes him the favorite. When you demolish an opponent 80-16 in a championship game, you clearly know what you're doing.
That said, from what I've been reading, Tyreek Hill appears to be the boogeyman of the NFL gaming world. His twitter feed has plenty of video game content and there was even a shot of his crazy gaming setup. He did hint that two No. 1 seeds would be facing off in the opening round, suggesting that Tyrann Mathieu could be one to watch at +800. However, I'm hitching my wagon to Tyreek Hill at +160.
Here's a look at the full list of odds to win The Checkdown x Madden 20 Tournament:
Who Will Win the Checkdown Madden 20 Tournament

| Winner | Odds |
| --- | --- |
| Derwin James | +115 |
| Tyreek Hill | +160 |
| Tyrann Mathieu | +800 |
| Deebo Samuel | +800 |
| Denzel Ward | +900 |
| Jarvis Landry | +950 |
| DeSean Jackson | +950 |
| Keenan Allen | +2200 |
Odds as of March 31 at Bodog


[ad_2]
Source link
Relevant news