One of the Best Trends in the NFL You Didn't Know About: The Clete Blakeman Effect
I am not one to follow trends. I think they are a good accessory to your overall data but I would not blind bet on something solely off a trend. The Tampa Bay Buccaneers are a solid 9-3 on the OVER/UNDER this season. The Buffalo Bills are 8-3-1 ATS. But these aren't the trends I'm talking about.
A trend I find fascinating that you probably don't know about is the Clete Blakeman trend. Blakeman is an NFL referee and up until the Seattle Seahawks topped the Minnesota Vikings 37-30 on Monday Night Football, games in which he was the head official had gone 10-0 on the UNDER, while underdogs had gone 12-3 ATS in his previous 15 games.
Adam Lefkoe and Warren Sharp discovered this trend a few weeks into the season and have been riding it since.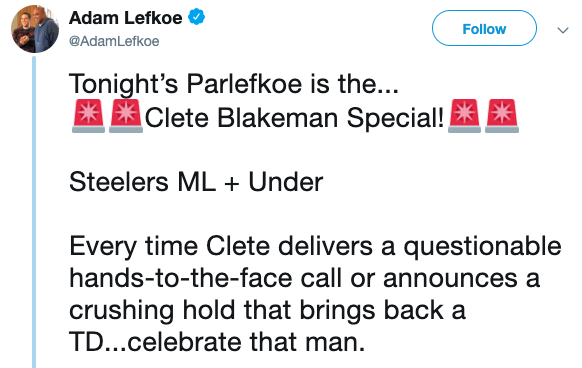 Those games:
Lefkoe continued on with this trend going into the Monday Night game. On his Week 13 episode with Warren Sharp, Lefkoe said "we know one piece of information that is invaluable. The lead referee is my man, Clete Blakeman. Why do I say he's my man? Because he's reffed 10 games this year and all 10 have hit the UNDER." He went on to remind the viewers what happened in Week 12 between the Oakland Raiders and the New York Jets that helped to keep the game UNDER the closing line of 45, with a touchdown that was overturned due to an offensive pass interference penalty.
The trend definitely panned out for him that night.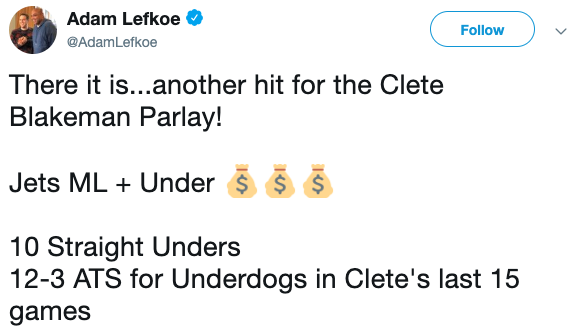 The perfect 10-0 UNDER trend was broken in the MNF shootout, with the Seahawks getting the cover. That trend moved to 10-1 on the UNDER (90.9 percent) and underdogs are now 12-4 ATS in Blakeman's last 16 games as lead ref.
NFL Referees and Game Totals
So, you have to wonder, has this sort of thing ever happened before? Enter: Odds Shark Data Team. With their help, I have learned that the answer is yes. In fact, it's happening now. Clete Blakeman may be a fan of the UNDER game, but Scott Novak is at 8-1 O/U (88.9%) in the 2019 season and Walt Anderson is at 7-3 O/U (70.0%) this year. What about in the past?
Here are a few of the best historical OVER trends to end the season.
2018: Shawn Smith 8-2 (80 percent)
2016: Tony Corrente 8-2 (80 percent)
2015: John Parry 11-3 (78.6 percent)
Here are a few of the best historical UNDER trends to end the season.
2015: John Hussey 9-0 (100 percent)
2017: Pete Morelli 9-1 (90 percent)
2017: Brad Allen 8-1-1 (88.9 percent)
2013: Tony Corrente 8-1 (88.9 percent)
NFL Referees and Underdogs
As Lefkoe pointed out, underdogs in Clete Blakeman games tend to fare pretty well this season. His games aren't the only ones, though. Also this season, underdogs are 7-3 ATS (70 percent) under Carl Cheffers, 9-3 ATS (75 percent) under Scott Novak (who tends to ref OVER games, as referenced above), and 8-2-1 ATS (80 percent) under Ronald Torbert.
Here are a few of the best historical UNDERDOG trends to end the season.
2015: Pete Morelli 7-1 ATS (87.5 percent)
2014: Terry McAulay 7-1 ATS (87.5 percent)
2012: Carl Cheffers 7-2 ATS (77 percent)
NFL Referees and Favorites
Through 13 weeks of NFL action, favorites are 8-3 ATS (72.7 percent) when Shawn Smith is calling the shots. The numbers are the same for Alex Kemp.
Here are a few of the best historical FAVORITE trends to end the season.
2012: Terry McAulay 8-1 ATS (88.9 percent)
2017: Bill Vinovich 8-1 ATS (88.9 percent)
2017: Pete Morelli 8-2 ATS (80 percent)
How to Use This Information
As we know, trends are meant to be broken and MNF between the Vikings and Seahawks was a clear example of that.
Are these trends coincidence? They definitely could be. Look at the games Blakeman reffed and two things stick out. Those games featured either strong defenses and/or weak offenses, and MNF was one game that finally matched up offensively strong teams that are susceptible defensively.
Next up for Blakeman: the Carolina Panthers against the Atlanta Falcons. Do with that what you will.
Source link
Relevant news