FIFA 20 La Liga Santander Challenge Betting Odds
[ad_1]
With the sports world coming to a standstill due to the COVID-19 pandemic, more and more teams and players are taking to video games to fill the void. The biggest gaming tournament to date will take place from March 20-22 in the La Liga Santander Challenge with the first slate of games currently set for 2PM EST. 
Popular Spanish streamer Ibai Llanos came up with the idea that each of the 20 La Liga clubs nominate a representative from their teams to play a three-day FIFA tournament. Within 24 hours, every team in the league agreed and the wheels were in motion. 
Llanos had previously broadcasted a FIFA game between Real Betis and Sevilla less than a week before this idea came to fruition. Borja Iglesias of Real Betis and Sergio Reguilon of Sevilla battled to a 5-5 draw on Llanos' channel. 
A draw was held on Thursday, March 19 to determine the bracket for the tournament with the seeding based on the real-life La Liga standings. Six teams were drawn into the pre-qualifiers with the winners moving onto the quarterfinals.
And, of course, all of the games can be watched live streaming on Twitch at Llanos' channel.
Who Is Playing in The La Liga Santander Challenge?
Each of the 20 La Liga clubs picked a representative for their team to play in the tournament. The list includes some of the biggest names in the Spanish league. The complete list is:
La Liga Santander Challenge Bracket
The six teams that must play in the pre-qualifiers are Leganés, Real Valladolid, Alaves, Celta Vigo, Espanyol and Eibar. The remaining teams were drawn directly into the quarterfinals, with the three top-ranked teams taking on the winners of the pre-qualifiers.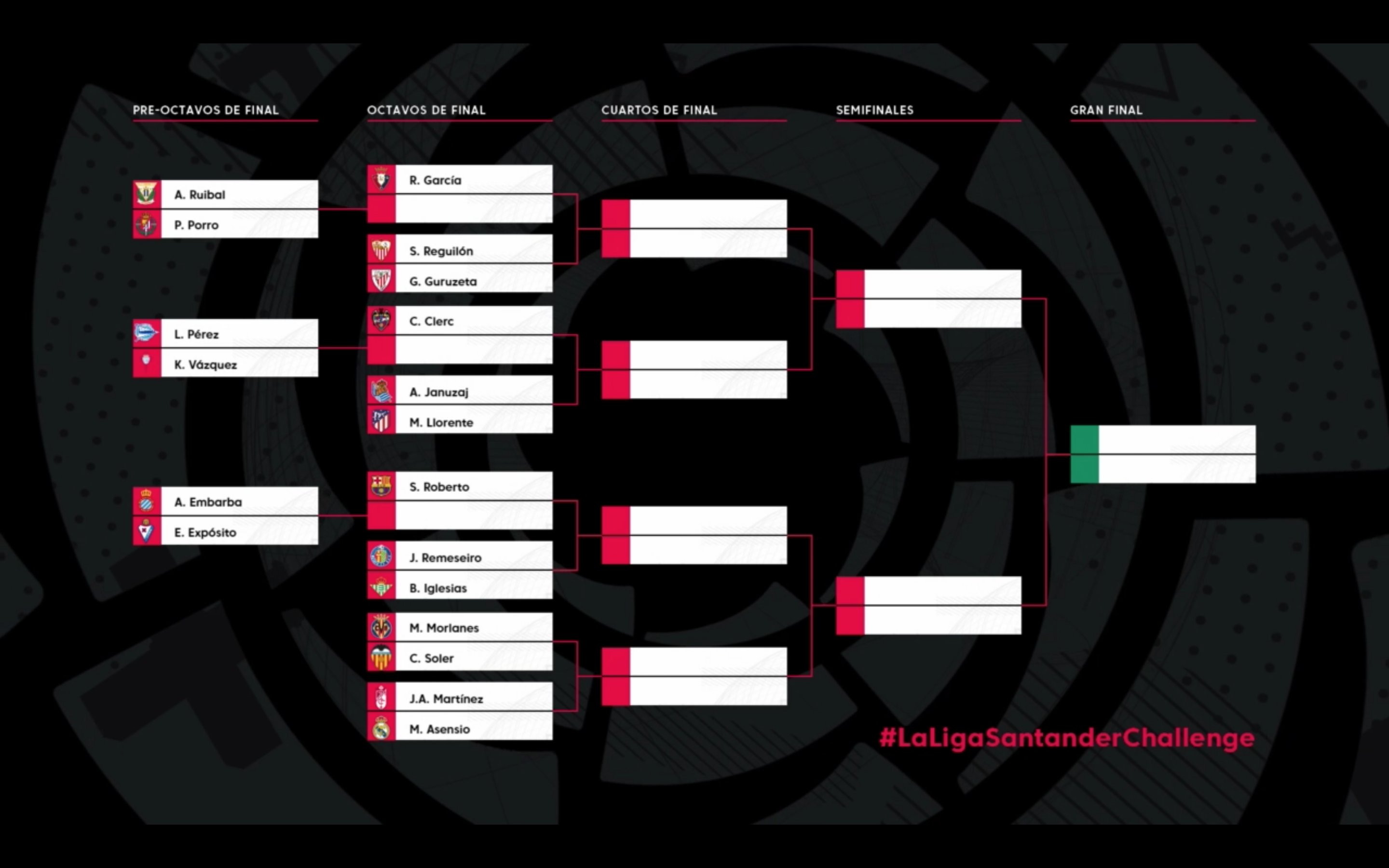 La Liga Santander Challenge Betting Odds
Sergi Roberto of Barcelona enters the tournament as the +450 betting favorite at BetWay. This should not come to a shock to anyone, as Barcelona is tied for the highest club rating in FIFA 20 at 86 overall. The other 86? Real Madrid.
Real Madrid, who will be represented by Marco Asensio enters the tournament at +550 to win it all. However, both Barcelona and Real Madrid drew into the same half of the bracket though. That means, that a semifinals matchup between Roberto and Asensio could in the cards.
The second-best odds belong to Atlético Madrid who will be manned by Marcos Llorente. Atlético Madrid is one of only eight five-star teams in FIFA 20 with an overall rating of 83. Llorente also has the luxury of being drawn into the opposite group as Roberto and Asensio.
FIFA La Liga Santander Challenge Betting Odds

| Team | Odds |
| --- | --- |
| Sergi Roberto (Barcelona) | +450 |
| Marcos Llorente (Atlético Madrid) | +500 |
| Marco Asensio (Real Madrid) | +550 |
| Adnan Januzaj (Real Sociedad) | +650 |
| Carlos Soler (Valencia) | +900 |
| Gorka Guruzeta (Atlético Bilbao) | +900 |
| Sergio Reguilon (Sevilla) | +1000 |
| Manu Morlanes (Villarreal) | +1100 |
| Borja Iglesias (Real Betis) | +1200 |
| Carlos Clerc (Levante) | +1200 |
| Jason (Getafe) | +1400 |
| Adrian Embarba (Espanyol) | +1600 |
| José Antonio Martinez (Granada) | +1600 |
| Lucas Perez (Alaves) | +1600 |
| Pedro Porro (Real Valladolid) | +1600 |
| Ruben Garcia (Osasuna) | +1600 |
| Edu Exposito (Eibar) | +2000 |
| Kevin Vazquez (Celta Vigo) | +2000 |
| Aitor Ruibal (Leganés) | +2500 |
Odds as of March 20 at BetWay
[ad_2]
Source link
Relevant news