Donald Trump vs Joe Biden: Who Would Win In A Fight?
[ad_1]
It's the newest hotly contested debate set to sweep bars and public gatherings across the United States (as soon as COVID-19 restrictions get lifted, of course).
No, it's not who's better between Michael Jordan and LeBron James or Kanye West and Taylor Swift. It's who would win a fight between U.S. President Donald Trump and Democratic presidential nomination favorite Joe Biden.
If you follow these two on social media, it's not uncommon to watch them subtweet each other and trade barbs about political policy as we continue toward the November 3 presidential election. But if recent protests and riots are any indication, some of the American people are out for blood and would love to see a good scrap between the POTUS and Biden.
The best boxing betting sites thought the same thing too and have set matchup odds for a hypothetical fight between the Republican and Democrat, with Trump coming in as a -155 favorite and Biden the underdog at +115.
Donald Trump vs Joe Biden Fight Odds

| Option | Odds |
| --- | --- |
| Donald Trump | -155 |
| Joe Biden | +115 |
Odds as of June 2 at Bodog
This is just one of the dozens of betting props offered by the best political betting sites and we've got all the major ones on a handy Presidential Props page with odds updated daily.
For now, below is the tale of the tape and some betting notes you should know to handicap this elderly donnybrook.
Tale Of The Tape: Donald Trump vs Joe Biden

| Donald Trump | Category | Joe Biden |
| --- | --- | --- |
| 73 | Age | 77 |
| 6'3′ | Height | 6'0′ |
| 240 lbs | Weight | 215 lbs |
| Sensitive, Fake News | Weaknesses | Dementia, General Likability |
| 1-0 in WWE | Fight Experience | N/A |
What You Need To Know About Trump
Having the age and height advantages while also seemingly the aggressor, Donald Trump deserves to be the betting favorite in this hypothetical physical matchup.
His former personal physician, Harold Borenstein, said back in 2015 that Trump's lab results were "astonishingly excellent" and he would be "the healthiest individual ever elected to the presidency."
How much of that assessment was true is not for us to decide but another factor to consider is that Borenstein suggested in a 2018 interview that Trump took Propecia for hair loss. Not shaming him for keeping his famous flow intact but it's worth noting that it contains a substance banned by the World Anti-Doping Agency as it could be used to mask steroid use. Could this explain the aggression? Hard to tell.
With riots and protests going on in the United States, the war of words between the political rivals is not new. Back in 2018, Trump and Biden had a back-and-forth suggesting the outcome of a proposed fight and let's just say the president did not mince words: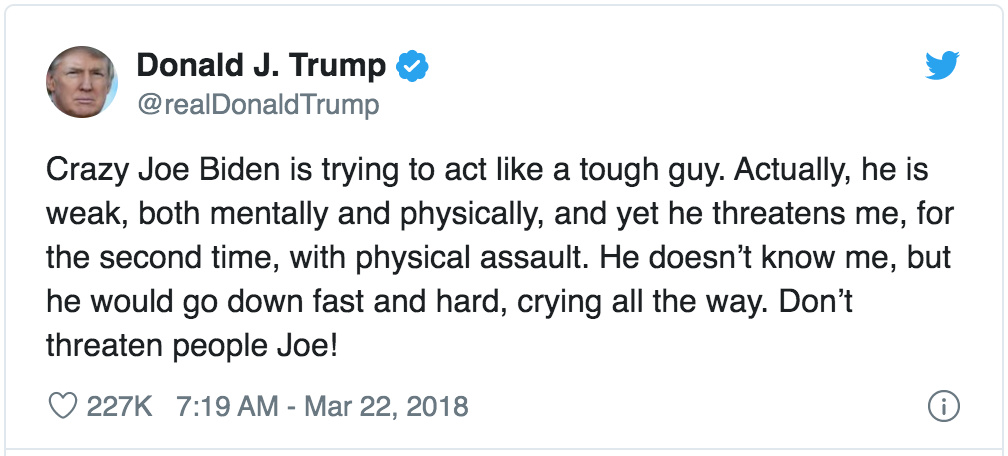 Needless to say, Trump can really sell a fight, which is probably why he's inducted into the WWE Hall of Fame in the celebrity category. For reference, here's Trump clotheslining WWE owner Vince McMahon and then shaving his head back in 2009 for WrestleMania 25:
What You Need To Know About Biden
Joe Biden, or "Sleepy Joe" as the POTUS refers to him, may have some factors working against him like age and height, but he has one edge over Donald Trump when it comes to a fist fight and that's his football background.
Yes, it's been more than 50 years since the former vice-president donned the shoulder pads and leather helmet but that shows he isn't averse to physical contact. The man played halfback and linebacker, both positions that involve a lot of physical punishment. That means he could likely take Trump's best shot before having to summon the energy a 77-year-old would need to knock out another senior citizen.
Even earlier this year, Biden looked like he was ready to scrap with an auto parts worker in Michigan when the topic of gun control came up:
Verdict and Betting Pick
Look, let's not pretend this wouldn't be the most cringeworthy thing you've ever seen. Watching old people do anything physical is either a marvel of athletics or a tipped-over port-o-potty. There's no in-between.
With that in mind, I'd have to go with Trump at -155 only because I think he'd have the edge for mental warfare leading up to the bout and the physical stature to take a fall. Whereas Biden looks like if he took one fall, his hip would shatter.
To get an idea of what two old people look like when they're fighting, here's a video from the CFL Hall of Fame when Joe Kapp and Angelo Mosca decided to trade some shots:
I think we can all agree that if the first presidential debate scheduled for Tuesday, September 29, at the University of Notre Dame has even shades of the video above, it will be a doozy. Happy Betting!
---
How To Read Trump-Biden Fight Odds
When you check out your sportsbook of choice for political betting props like who would win a fight between President Donald Trump and former vice-president Joe Biden, you'll see prop odds that look something like this:
Donald Trump -155
Joe Biden +115
To bet on these odds, you would be making a prop bet – more on that in a bit. In this case, Donald Trump is the favorite as he has a minus sign (-) in front of his odds. Biden would be considered the underdog in this bout.
If you think Trump will win and you bet $100 on him, you would win $164.52. That's your original $100 back and $64.52 of profit. On the flip side, if you think Biden wins the scrap and you bet $100 on him, you'd win $215 – your original wager of $100 is returned along with $115 in profit.
Our Odds Calculator will show you how much you'd win based on the odds and amount bet.
What is a Prop Bet?
A political prop is a bet on the occurrence or non-occurrence of certain outcomes that may not necessarily determine the outcome of the presidential election. You can make a bet like this as soon as the odds are announced. If you see odds you like, place your bet immediately, otherwise the action could move so much that you'll barely make a profit or maybe even not make one at all.
Our how to bet political odds guide can get you up to speed if this isn't making sense. 
[ad_2]
Source link
Relevant news