Here's Why the Bitcoin Bull Trend Hasn't Found a Macro Top At $12,500
Bitcoin reached a peak of $12,500 last week as buyers rushed in.
As fast as BTC spiked, it reversed, dropping as low as $11,400 towards the end of last week.
Bitcoin has since recovered as it now trades at $11,650.
The failure to maintain $12,000, though, has left some analysts scared.
There are some market commentators suggesting that Bitcoin is still poised to reverse into a bear market from here.
A crucial technical indicator suggests otherwise. It shows that BTC likely isn't at a macro trend high… yet.
Indicator Shows Bitcoin Isn't at a Macro Top… Yet
According to a tried-and-true trend indicator, Bitcoin is not at a macro trend high just yet.
One cryptocurrency analyst using this indicator shared the chart below on August 23rd. The chart shows BTC's price action since the start of 2019 in relation to this indicator.
Per his interpretation of the indicator, Bitcoin begins to near a macro high whenever the indicator crosses above 400. Also, BTC is likely to enter a period of consolidation whenever the trend indicator moves above 200.
"This indicator is pretty damn good at predicting tops. 200 = warning sign, local top, pullback likely, but doesn't mean rally is over. 400 = market majorly overheated, likely a significant top. anything above 400 = GTFO."
Applying this framework to the recent price action, the analyst explained that the Bitcoin market likely isn't "overheated" at this moment.
Chart of BTC's price action since the start of 2019 with a custom trend/momentum indicator from crypto trader Byzantine General (@Byzgeneral On Twitter).
Chart from TradingView.com
Where Will the High Be?
With Bitcoin seemingly not yet at a macro high as per the indicator, that raises the question of where the top will be. Considering the importance of 400 to the indicator, it seems that the top may be close, especially if the next leg higher happens shortly.
But according to a number of Wall Street veterans in the Bitcoin market, the cryptocurrency still has a long way to run.
Dan Tapiero — the co-founder of DTAP Capital, Gold Bullion International — commented that Bitcoin is looking poised to rally 5-10x this market cycle:
"Tremendous long term Log Chart of #Bitcoin projects up 5-10x on this run. Just breaking up NOW. Should last a few years as 2.5yr consolidation is fantastic base for catapult up. Break of old highs will have explosive follow through. Time to sit and be patient."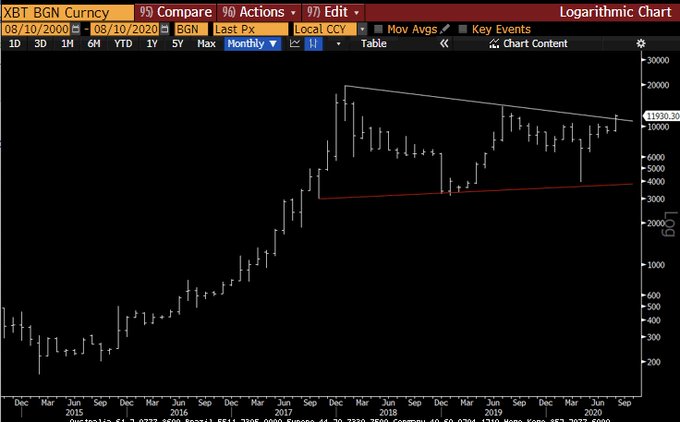 Chart of BTC's macro price action (Logarithimic chart) by Bitcoin bull and gold investor Dan Tapiero. Chart from Bloomberg
Raoul Pal, the CEO of Real Vision and a Wall Street veteran, echoed this sentiment. He wrote in previous analyses that Bitcoin could hit $100,000 in the coming two years.
Featured Image from Shutterstock
Price tags: xbtusd, btcusd, btcusdt
Charts from TradingView.com
Here's Why the Bitcoin Bull Trend Hasn't Found a Macro Top At $12,500
Relevant news