Analyst Explains Why the Ultimate Resistance Bitcoin Faces Is $11,500
Just a day before the weekly close, Bitcoin saw an explosive breakout as high as $12,200 on Saturday.
In classic crypto fashion, the cryptocurrency proceeded to drop by $1,500 in the span of five minutes as sellers rushed in.
This crash meant that BTC closed the weekly candle below $11,500 and $12,000, two crucial resistance levels.
After this crash, an analyst identified that $11,500 is literally "the most important level" for Bitcoin.
Fortunately for bulls, analysts say that the technicals and fundamentals of BTC suggest it will soon recapture that pivotal region.
BTC reclaiming $11,500 could set the stage for more upside in the long run.
Why $11,500 Is Pivotal to the Bitcoin Bull Case: Analyst Explains
Although Bitcoin's price action may seem to be sporadic to most market observers, the cryptocurrency can be technically analyzed like any other asset. That means that BTC has uptrends and downtrends and crucial support and resistance levels.
According to one analyst, $11,500 is literally the "most important level for Bitcoin" right now. It breaking above that level on a weekly scale could trigger a bull run while it remaining below it could lead to a correction.
The reason why he has put such emphasis on $11,500 is due to Bitcoin's previous interactions with this level. The trader shared the chart below, which depicts these interactions.
As can be seen in the chart below, BTC has almost seen volatility when it has interacted with $11,500. Since early 2018, when BTC closed a weekly candle around $11,800, no weekly candle has closed above $11,500 despite Bitcoin passing that level intra-week.
The most important case of this was in June 2019, when BTC rallied as high as $14,000 in the middle of the week. On a weekly time frame, though, Bitcoin only reached as high as $11,500, again cementing its importance.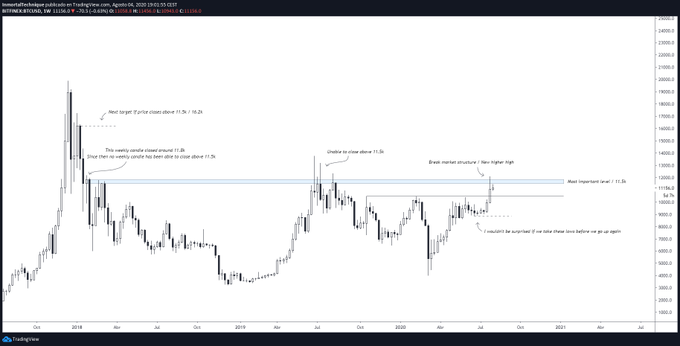 Chart of BTC's macro price action over the past three years with analysis by crypto trader Inmortal Technique (@inmortalcrypto on Twitter). Chart from TradingView.com
He isn't the first one to have put such emphasis on $11,500 — or at least the prices in that region. Vinny Lingham, the chief executive of crypto startup Civic, recently wrote as reported previously: 
"It was a good call last time. This time it's likely that Bitcoin holds $12k and consolidates around that level while capital moves into alt coins to test those waters. If $12k holds for a 3-5 days, then we can expect the next phase to be a buildup for a much bigger run…"
Will BTC Cross It?
Analysts are hopeful that Bitcoin will cross that level in the weeks and months ahead.
As reported by Bitcoinist previously, a fractal predicts that Bitcoin's recent price action resembles a fractal from a historic BTC price pattern. The fractal predicts that Bitcoin will rocket past $12,000 by the middle of this month.
Fractal analysis of historical Bitcoin price action and recent price action by trader "C2M" (@C2M_Killmex on Twitter). Chart from TradingView.com
Further supporting BTC bulls, gold just hit a price of $2,020. Certain analysts say that the precious metal rallying will act as a boon for the cryptocurrency markets moving forward.
Featured Image from Shutterstock
Price tags: xbtusd, btcusd, btcusdt
Charts from TradingView.com
Analyst Explains Why the Ultimate Resistance Bitcoin Faces Is $11,500
Relevant news