$12k Bitcoin Can Unlock Prices "As High as Imagination" Will Allow: Analyst
Bitcoin has faced a rejection after surging as high as $11,500 on Monday. As of the time of this article's writing, BTC is at $10,800.
Analysts remain optimistic despite this drop from the local highs, arguing that the bearish market structure that persisted last week is now broken.
One macro analyst says that if Bitcoin breaks past $12,000, the sky may be the limit for the upcoming bull run.
Others say that $13,900-14,000 has more importance for BTC, as that's where the bull market found a top in 2019.
The recent surge in the Bitcoin price has allowed the asset to decisively cross $10,500 — what some have called the ultimate resistance. According to a prominent macro analyst, though, BTC needs to reclaim $12,000 to unlock the full potential of the bull rally.
Bitcoin Must Retake $11,500 and Ethereum Must Retake $450: Analyst
Bitcoin is finally coming to life after weeks of inactivity. At the highs on Monday, the asset had gained nearly 15% in the span of 24 hours, one of the best daily performances in many months.
BTC remains below a crucial resistance level, as does ETH, according to Carter Braxton Worth.
Worth is the chief market technician at Cornerstone Macro and a co-host of CNBC's Options Actions; he is an active guest on CNBC, Bloomberg, and other mainstream financial news outlets.
In an analysis published July 27th, the investor argued that Bitcoin needs to break $12,000. Doing so will allow it to rally to prices "as high as the imagination will allow."
"It was only a matter of time – Bitcoin and Ethereum finally are coming to life. We are buyers of each. $BTC price objective: $12,000. $ETH price objective: $450. And from there? As high as the imagination will allow…"Worth commented in reference to the chart below.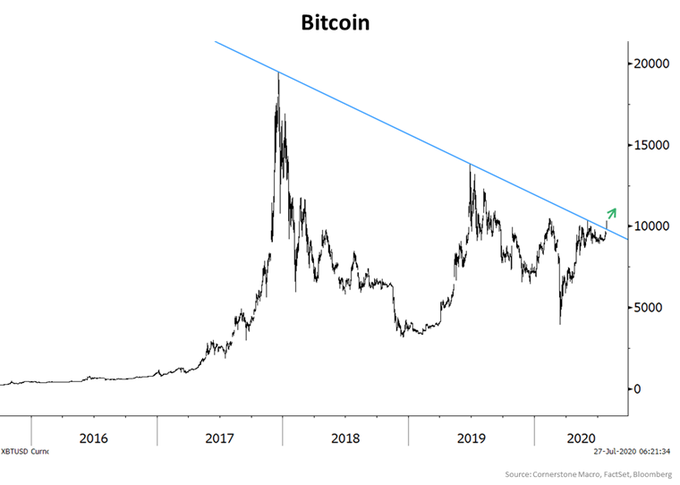 Rob Sluymer has taken a different view. The market technician at Fundstrat Global Advisors said to Bloomberg that the crucial resistance that investors should be watching is $13,900-14,000 for Bitcoin.
This is for good reason: $14,000 was the level at which Bitcoin topped in 2019. It is also the price that BTC closed 2017 at, despite the surge to $20,000.
Whatever the exact resistance may be, many analysts aren't convinced that Bitcoin has clear skies ahead.
Pullback Inbound?
Some do fear that a pullback is inbound for the Bitcoin market as it remains below some resistance levels.
As reported by Bitcoinist previously, the high funding rates on margin exchanges are worrying some commentators:
"As soon as the price has broken 10k, fundings have skyrocketed across all exchanges. This is NOT a bullish sign."
The high funding rates suggest that long positions are overextended and may be forced out of their positions if not careful. High funding rates have historically coincided with market tops, or at least points where bull trends pull back.
Featured Image from Shutterstock
Price tags: xbtusd, btcusd, btcusdt
Charts from TradingView.com
$12k Bitcoin Can Unlock Prices "As High as Imagination" Will Allow: Analyst
Relevant news